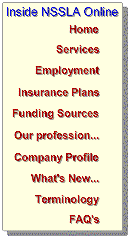 For adults, NSSLA provides group interaction and support for individuals with Voice or Stuttering Disorders. Group therapy allows clients to "carry-over" their newly acquired skills in a more naturalistic setting - in direct conversation with others. The opportunities for group support are invaluable for certain types of communications disorders. Members share their feelings regarding their problems as well as their successes with their improved communication skills.

Groups at NSSLA are scheduled at mutually convenient times for all involved.

For further information, please contact us.