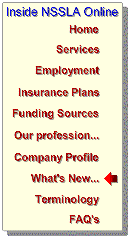 Our director, Paula Okin, was recently elected to serve as Delegate of Private Practice to the Executive Board of the New York State Speech-Language-Hearing Association for 1998-2000. Paula looks forward to this challenge, and the opportunity to represent private practitioners at the state level.

Paula has also recently been selected to attend a special summit of the New York State Data Review Committee of the Early Intervention Program. In this capacity she will be involved in revising the ICD-9 diagnostic codes which indicate the conditions that have a high probability of resulting in a developmental disability.

Don't forget to check out our new links page. We are including links to other Speech-Language sites on the web. If you have a site or know of one that is appropriate for this please e-mail our webmaster at webmaster@nssl.com.