North Shore Speech-Language Associates is a family centered speech and language pathology private practice dedicated to helping persons with communication disorders. I'm Paula Okin and I'd like to welcome you to our web site. Let's communicate!

At North Shore Speech-Language Associates (NSSLA), we offer a complete range of evaluation and treatment services for infants, children and adults. We work collaboratively with our clients and their families to foster the best and most appropriate care for them. Speech and language therapy may be provided in your home, at schools or facilities, or in our professional Long Island, NY office setting.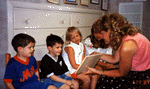 NSSLA's staff is always expanding, and we like to attract the most highly qualified professionals to join our team. A wide variety of employment opportunities are available, ranging from clerical and administrative to multidisciplinary professional positions. A challenging and rewarding career awaits you at NSSLA!
We are interested in communicating with you. We have prepared a sign up sheet, so that you may request further information on our services or employment opportunities. There is also a place for you to give us feedback as to how our site may be of further assistance to you.
You may also contact us at:
Telephone: (516) 627-6391
FAX: (516) 627-2057
Electronic mail:
General Information: info@nssl.com
Webmaster: webmaster@nssl.com
Services | Funding | Insurance | Employment | FAQ's | Company Profile | What's New | Terminology | Professional